Hochzeitseinladungen .. nein, nein, nicht fuer meine Hochzeit, sondern fuer den großen Tag einer lieben Freundin und ihrem wunderbaren Verlobten!
Ein Mix aus Wasabi und Savanne, kombiniert mit Flüsterweiss und glutroten Blümchen .. das filigrane Blütenherzchen wurde über 50mal durch die Big Shot gekurbelt und die kleinen Blümchen noch viel öfter 🙂 – gelohnt hat sich die Arbeit auf jeden Fall, oder was meint ihr?
Wenn ihr auch etwas mit Herzen kreieren wollt, dann verlinkt doch Challenge Up Your Life auf euren Blog 🙂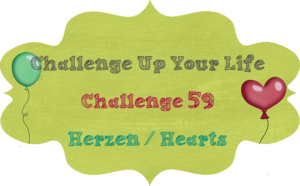 Challenges:
heARTful stamping: love and a stamp
all sorts challenge: heart and/or flowers
just us girls: hearts
dragonfly dreams: hearts and flowers
Product List
Liked this post? Follow this blog to get more.