Panda Liebe
Babykärtchen
Hello ihr Lieben, na? wie geht es euch? In letzter Zeit war ich sehr fleissig. Hab viel Zeit im Arbeitszimmer verbracht und hab gewerkelt. Unter anderem sind diese drei Babykärtchen von meinem Tisch gehüpft. Wer mir auf Instagram folgt, hat wohl einige steps schon gesehen 😉
Hier sind also 3 der insgesamt 7 Kärtchen (hab noch 4 Mädchenversionen die ich euch ein andres mal zeigen werde) 🙂
Gestaltet hab ich die Karten mit dem Gratisstempelset meines letzten Weihnachtsgeschenks. Hab ja ein Abo für eine Stempelzeitschrift geschenkt bekommen. Nachdem ich diese nun schon ein Jahr beziehe dachte ich mir, sollte ich die vielen Stempel auch mal verwenden 😀 Wenn ihr genau hinseht, dann könnt ihr den schönen Schimmer am Hintergrundpapier erkennen – ich liebe perlmutt ja, vorallem wenns farbig is 🙂 die Wölkchen hab ich mit Strukturpaste gemacht — geht ja ruck zuck so ein Hintergrund!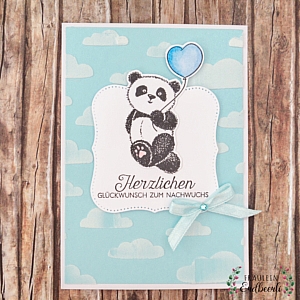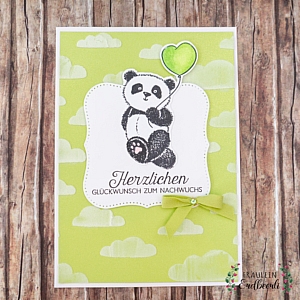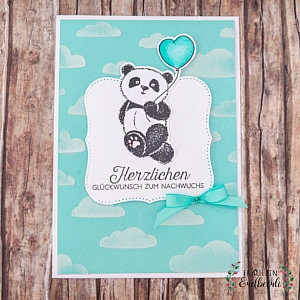 Challenges:
City Crafter: For The Boys
Cuttlebug Mania: Masculine
Crazy Challenge: Monochrome
Cutie Pie Challenge: Bear Hugs
Liked this post? Follow this blog to get more.